Quarries
Lundhs quarrying traditions go back more than 100 years, ensuring reliability, stability and quality for our customers. We are currently operating in eight quarries, most located within the area of Larvik in the south east of Norway. We also have one quarry in Sirevåg, located on the west coast of Norway. All our quarries in Norway are ISO 14001 certified.
Drilling
The process of producing our blocks begins with drilling. Holes are firstly drilled both vertically and horizontally, and then the required diamond wire is inserted to cut blocks out of the solid mountain.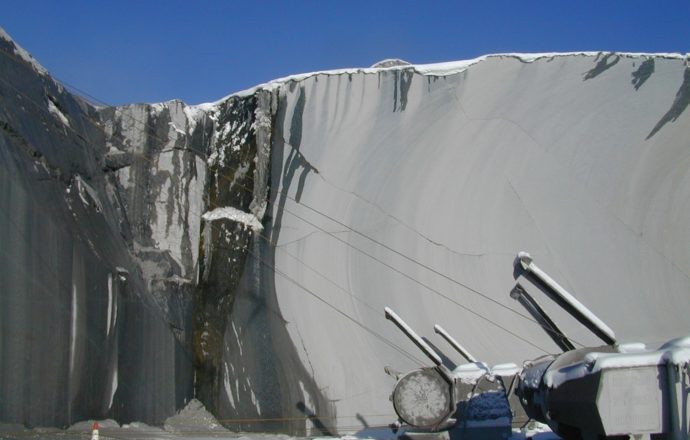 Sawing
The sawing process starts by connecting the diamond wire to an electric engine. The diamond wire cutting tools then drill into the mountain, rotating to achieve a clean cut.
Extraction
After the sawing process, the large segments of stone are pushed to the ground onto a soft bed of rocks to ensure a safe landing. These big blocks measure approximately 10 x 15 x 2m and weigh roughly 100 tonnes. The finished cut cubes are taken out of the mountain to be prepared for sizing and transportation.
Utilisation
The first quality check concerning colours, veins and cracks is done straight after the extraction. This is done by a manual inspection of the stone after spraying water on the surface.
Formation
After determining the use of the block based on its colour and quality, the blocks are then formed.
Quality control
The formed blocks are then inspected a second time to ensure the right colour and quality classification has been given.
Transportation
The blocks are finally put in position for further selection and transportation around the world. Blocks vary in size from 2 to 40 tonnes and the dimensions are up to 3.5 metres long and 2 metres high.